Racing = continuous punishment!
The southern California fires put a small delay in my race preparations, requiring me to work a little harder than I intended. I retired the bogus cylinder that had twice seized on me. The "new" cylinder I installed had a different height, so it took 5 different combinations of gasket thickness to get it close to the other cylinder's squish. Zina's back is giving her problems, so she chose not to ride this month and we ended up deciding to blow off the pre-lunch practice sessions and save some money by driving up Saturday morning. As Zina drove, I got some more sleep. We drove through some SoCal rain and pulled into a cold, breezy, and dreary track. But our friends from Montana greeted us with huge smiles! (Notice Eric's shorts!!)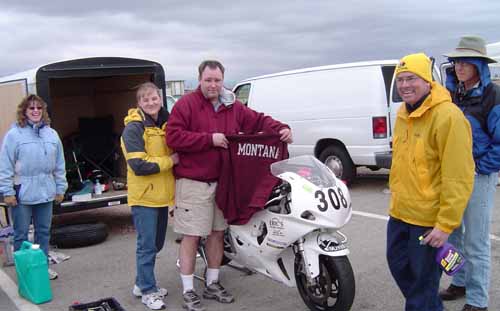 For those who do not recall, Eric GSXR750 looking bike actually has a Honda 600 single in it! He loves the thing and has a blast coming out to Willow and "Blatting" around. The exhaust pipe exits in the center of the tail section, which I think looks great and is "very proper".
I got in three very useful sessions. The most important thing is that my bike's engine was as strong as ever and didn't break! I switched the brake system from the spare bike and it needed some bleeding and the pads to be pushed in and then reset, as they were dragging. Zina had the brilliant idea for me to do the work in the trailer, so I wouldn't get frosty from the chilly wind - and then I went one step further and ran the generator and powered my 500W light! Once finished with this task, we left the track and I had a great feeling for this weekend.
Sunday morning, I went out for the second warm up practice session (having skipped the first one) and everything felt great. I pulled in a couple laps early with a huge smile on my face. WSMC staff-er Richie was at the pit entrance and asked if I was ok. "Yup, everything is great, so I came in early."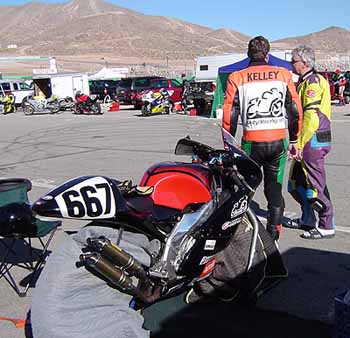 I got into the pit, parked the bike, and waited for the riders' meeting. Before going to the meeting, I wrapped up the tires and warmers under moving blankets, so that the "breeze" wouldn't draw away precious warmth from the tires. We fired up the generator before heading up to the meeting. This months' meeting was kind of typical, but afterwards, the track had arranged for the National Anthem to be sung live by a duet of young women. Now, I'm not hugely patriotic, but I always appreciate that patriotism (and our military) are what allows us to be free to spend so much time and money on an activity of sport and leisure. And somehow, to me, it seems more patriotic to have someone sing the National Anthem rather than a tape recorder play it.
Then it's to the pits to warm up my Aprilia for race 1, Bud Light 550 Superbike. I haven't contested 550 SBK in the recent months because my bike has been breaking before Sunday and I was concentrating on my Aprilia Challenge class championship. In my absence, two "new" SV650 riders have joined the class and the other Aprilia riders were saying about one of them that "she's fast", too! Anyhow, the race was called and we had a fine warm up lap and gridded on the line. I was gridded 2nd, which surprised me as I'm like 5th in the points! I got a great start and it took the SV horde at least 25 seconds to catch and pass me. I went into turn 1 in 4th position and shortly, the order seemed to be Danny Ayala, another SV, and Brienne, the lady SV pilot. We all had a pretty clean first lap, but the leaders gapped Brienne and I, as she pulled me down the back straight and then again out of turn 9. Then I got zoomed by another SV! His draft helped me out somewhat and this rider started fighting with Brienne and the three of us were together. We each had our strengths and weaknesses - and they were all seemingly at different parts of the track. In turn 5, I tried setting up an outside move but instead blew the apex a little and ran really wide. This kinda helped me remember that I'm playing with different bikes and this brought back some almost happy memories of fighting with SVs early in the year. On the second lap, I started turning up the pace and my tires felt great and gave no hints of any issues, or the doom that was to befall me. I was able to pass one of the SVs in turn 3 and was working on the other one in turn 5, but was only alongside, so yielded and decided to set up for catching the draft into turn 8. Coming off the turn, this SV was violently shaking. It wasn't Brienne's SV, it was Zoran V's Twin Works bike. Later on, I learned that the rider is some 40 pounds less than what the suspension is set for! I ended up diving under this SV in turn 9 and was in third place for a few hundred yards before both of my 650cc competitors blasted past on the front straight. I pulled up behind them in turn 1 and set up Brienne on the outside of turn 2. I completed the pass and was again in 4th position for our 3-way battle for 3rd. Between turns 3 and 6, I was able to gain some on the "Z Powered" SV in front of me and then keep in touch from 6 through 9. Since it is a bit "breezy" this race, I carefully watch the corner worker flags in each of the critical turns: 6, 8, 9, 1, and 2a. Going through 8b and into turn 9, I could see that the "breeze" was across turn 9, blowing the riders out at the apex. Because of this, I set up for a conservative entrance. Just like on the lap before, I went in across the bumps, only this time the bars wagged pretty badly after finishing with the bumps.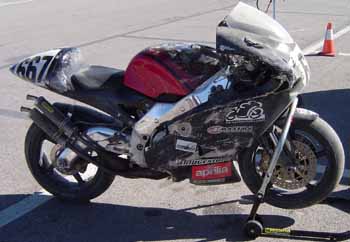 Before I could firmly plant my knee, I was ripped away from my bike by the pavement. My initial "Oh no / oh shit / noooooooooo / I can't crash here" thought was quickly distracted by the terror one experiences while being wash cycled against one's wishes. I was face down pretty quickly and seemed to start a slowish roll. As I was doing this, I recall feeling "fire" in my left hand and then bringing my arms up to my face. Then I was flipped onto my back violently and smacked the back of my head pretty well. And then still more of the uncontrollable strong pulling upon every part of your body that is associated with sliding along the pavement. I was probably going 115 when the tire lost traction and I slid about 150 yards. Next time we track walk, I'll try to confirm the distance. Then I was stopped. I waited and stuck my arms straight up to let the cornerworkers know I was alive. Next I looked at my hand since it Hurt Like Hell. Huh, can't see anything because the visor is trashed. Opened visor, hand looked fine. Now, I look around while still laying there (neck seems ok) and saw that I'm laying on my back with my head pointed in the direction of the track and the track seems far enough away, so I get up and start running for the berm at the edge of the run off. Good thing it wasn't far away, as this is when I noticed that my left ankle suddenly Hurt Like Hell, too. Once on the berm, I noticed that the race was still going and I wasn't the cause of a red flag. I looked around and saw that there's nothing to do for a while plus it was unlikely that the crash truck was going to come for me, so I laid down behind the berm to relax for a bit. Plus, I figured if I was out of sight to the riders, that would be less distraction. Pretty quickly, the crash truck showed up and the familiar, friendly, and concerned face of Bill (??) was there asking if I was ok or if I had blacked out. I said that I was ok and I hadn't blacked out, but my ankle was a little jacked up. The ambulance guys rolled up, but I told them that if it got bad, I'd come and find them later. Then I got to take a ride up to turn 4 to check on the track surface, as someone's bike had kind of blown up. The track seemed ok and we headed back.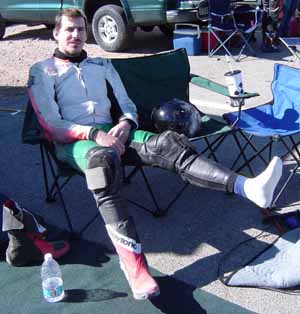 Once back in the pits, it was good to see Zina so she'd know I'm ok. And then one of the Montana Posse, Lloyd, who is a doctor, checked over my foot and declared that nothing seemed to require urgent care. In fact, nothing looked wrong with my foot at all! Not swollen, not red, nothing. It just hurt to walk on it or bend it up. Then a Willow regular shows up with ice and this interesting roll of saran wrap. Rhys is an athletic trainer and Orthopedic Technologist and he bagged some of the ice, wrapped me up, and helped out big time. He, too, thought everything was ok. He poked and prodded here and there. Thanks, Rhys!!
Ruben Archilla, #2 in the Aprilia Class, also crashed during the 550 superbike race. It would seem that we both blew turn 5 on the first lap! His bike got worked over pretty bad but he seemed ok. This was when I demanded that he take Zina's bike out for the Aprilia race so he could keep his TRE (top rookie expert) hopes alive. Ruben got out and finished second! And I think this month may have been Michael's first win in the class! Ruben and Michael brought back the venerable 666 RS250 and parked it as well as my wounded RS250. After some time, my foot started hurting, so I retired to the van for a while with my foot re-iced and elevated. After some time, I got bored and got up. I ran into some Ducati fanatics: Mikiel and Denis (and his daughter Riley). And then Clinton Whitehouse hobbles into the pit with his dad. We were all smilin and BSin. Then, I wandered around and got some lunch and I got in some more quality BSin. I'm not gonna let a little gimpness get in the way of BSin.
Some of that BSin with my fellow racers was about how the crash happened. Well, I went into the turn about the same as I did the lap previous. I've been through turn 9 probably 1000 times on my RS250, and there wasn't anything special about this time. I was coming off a pretty fast lap of about 1:32, so the pace was good. I've been through the bumps lots of times and this time was no different. There's nothing I would have done differently as a rider. Perhaps the only lesson is that if using one compound tire works in the summer and there is a softer version available (that's not a Q) then perhaps it should be used in the winter. But don't take this as blame on the tire, as I pushed plenty hard in 2, 3, and 5 and had no indication of any unhappiness in the tires.
Soooo, to those who care enough to read my report each month, I am sorry for crashing and ending this season on a "low" note. But I am very happy to have had a great year and do well enough to win the Aprilia Challenge championship and lucky to have such a fast tumble and be able to walk away, even with a little bit of a gimp. Upon writing this on Monday, my ankle feels a lot better, but the rest of me is pretty sore. My lats are mad at me, my neck is sore, my legs. Oh, and today, there is a place of tenderness in my hand. Looks like a bad sprain in the ankle and I should be ok soon.
=)