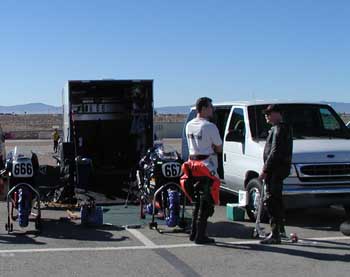 Summer in SoCal. We arrived at the track Friday afternoon and unhitched our trailer with the temps in the low 70s or high 60s. We couldn't believe it! Absolutely no "breeze" and room temperature weather! Walked the dogs and headed to dinner at our secret Chinese food place. The rest of the weekend had the same temperatures. 45ish low with the high in the 70s and zero breeze; absolutely perfect weather. And yes, no one could believe it was mid winter.
Saturday practice was kinda weird. We were expecting properly cold temperatures, so we had the supersoft front tires and the soft rears mounted up. The rears were used but flipped for a little longevity. I realized that I had forgotten something about how to ride, as I just couldn't make the bike turn. I was never able to make the Aprilia bend through 5 with the usual lines. My times weren't complete crap, though. When it really warmed up (enough that many WSMC participants were sunburnt) and my tires went off, I attributed the bikes poor handling to needing new tires. So after lunch, I got new tires mounted. This time, I went for a green (soft) front and soft rear. I'm finding that the rear tire needs as much or more air pressure than the front tire for it to have acceptable longevity. Track activity on Saturday ended and we did our usual dog walk.
OH! I forgot a funny story. WSMC just raised a bunch of fees by $10, and I was crying on the WSMC mailing list about $10 here, $10 there, it all adds up. Well, before the race weekend, I had pulled off my right knee slider as it was all ground down. But I failed to mount a new one. I figured that out on my 2nd lap of the day when I got my knee down in turn 9! It felt weird and I immediately realized what was going on. So I ride around and pull in to the pits and bum a slider off of Adolf from Z Leathers. After the session, I go back and find out I need to pay him $10. OK, so I tuck a $10 bill in the gas filler to give to Adolf on my way out for the next session. Duh. I forgot and go out and am going through turn 2 and I see something zip by my head down towards the triple clamp. Then I remembered the slider money! I give Adolf another $10 just after that. BUT, on our dog/track walk, we found my $10 bill. =) =) =)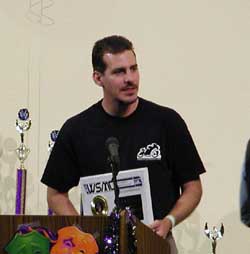 Saturday night was the awards banquet for 2002 and it was a pretty good time. The food was kinda scary, but edible. At least the dessert dish was pretty yum. Kevin Jump was his usual self. =) And our table was the envy of all adjacent ones with 5 riders making trips to the podium a total of like 14 times. I got 2nd in Pro Italia sponsored Aprilia Challenge (and $200!!!), 2nd in Solo GT Lights, and my third trip was for winning a drawing for WSMC "B" Sponsorship, where all Saturday practices are free!!! Thanks, WSMC! The banquet is an interesting experience. Kinda like prom but with people making trips to the podium and immature and rowdy racers heckling everyone.
We got to bed Sat nite late, so we slept in Sunday, choosing to skip the morning warm-up practice sessions altogether. I wasn't too worried about the fresh tires, as we've got great warmers and the 250 Grand Prix race was first up. Thanks to Roadracing World for picking up sponsorship of 250GP, too! The 250GP / Formula Twins combined race just wasn't meant to be. Yeah, I got my tires scrubbed in, but with 3 tries, we just couldn't finish the race. We did a start and someone's motor blew, oiling the track. Then on the next attempt to start, someone crashed on the warm up lap mysteriously near where the oil slick started. We got our third start and everything seemed fine. Each of the three starts, I smoked everyone off the line. The TZs must have ultra tall first gears, as I simply leave everyone. Of course, the actual fast guys zoom me going into 1, but not the "new" guys. I got my head down and throttle on. I was still having issues getting through 2, but I seemed ok through the omega (turns 3-4-5) with my performance in 5 improving slightly. A couple of 125s (that's "one two fives") got by me, but only just. I hang with them and mess with them on the straights. On what turned out to be the last lap, going into turn 2, I kinda sorta saw a wheel on the inside. Huh. That's cute. So I just keep riding and leave a little bit of room on the inside in case they don't back down. Then I remember seeing the orange crush flag and that was that. I got 5th out of 10 riders!
I pulled in and got my bike on the warmers again in preparation for *my* main event, Pro Italia's Aprilia Challenge race. Two of my closest competitors and closest rivals sold their Aprilia RS250s so they could move up to the 600 class. One of them is sticking with WSMC, the others are going AMA. "Others" because the remaining racer is going to run the Aprilia Challenge until their bike is sold then join the axe-murderous 600 contingent. I again got a great start, but JJ just edged me going into Turn 1. We got through OK and I worked and worked and pretty much stayed with him. I was a few bikes back (10 or 20), but certainly in touch. Each turn, I was doing well. My form was excellent and I was hanging off. I've got fresh rubber, so why aren't I up there with him. Then in the middle of the race, I realized that I was screwing up with my feet.
It dawned on me that I normally weight the inside peg while hanging off in a turn. I hadn't been all weekend! I did it as soon as I realized this (in the middle of long sweeping Turn 2) and the bike immediately dug in and found traction in the pavement! I was stoked!!! So now James starts coming back to me! Unfortunately, the race ended before any hope of dicing with him. Before this month's racing, I didn't take too much stock in the whole peg weighting issue, as different folks have said opposite things. Perhaps it is a matter of works for different bikes?
The 550 race was HUGE. I got a pretty good start, but the SV horde zoomed by going into turn 1. Oh, and add Clinton Whitehouse and his RD thing to that mix, too. Again, everyone brake checked going into 1. I wanted to get around on the outside, but every time I looked to do it, there was someone out there just parked. Eventually, we got sorted out. There was an SV with numbers falling off. I figured it was kind of a new guy as they were plenty fast in the straights, but a little lacking in the turns. I got around him and a some other folks in turn 5 but then he zoomed past on the front straight. We went wide going into Turn 1, and Steve Moonitz and Danny A got by us. Crap! Anyhow, when we got to 2, dude let off and I stuffed up underneath him as he changed his line from middle to the inside. Too late, I was there… he checked up and I sort of waved. Sorry! I just didn't want to wait around. I got my head down and caught up to the two SV riders ahead of with my freshly remembered technique of weighting the proper pegs. I was absolutely flat out in so many places. Through 2, I was pinned and the bike moving but not overly so. The tires were protesting, but holding their grip. I broke into 3 as late as I dared and likewise for 9, I tried my best to scare myself. On the exit, once I realized where the front straight was, I leaned over the bike to minimize speed loss due to cornering as I crossed the entrance to pit lane.
I caught those two SVs with a couple laps to go and it looked like Danny A checked up to think about Steve and let off in 5. Well, that'll wreck my drive, so I went around him in 5 and took 6 from him. Doesn't matter, as with the horsepower difference, he handily repassed me in 7. Danny got the hurry up from me and passed Steve, who I started really homing in on. I was hungry for SV and he was in striking distance. We went around the last lap and I was close. I timed 9 just right to be on his tail on the exit, but not close enough to have caught his draft. So we finished 5,6,7 with wheels in line feet apart. THAT was a dang good race. I looked back after we crossed the line and the track was absolutely empty. We had left the pack behind us. Zina got caught up with them and her front tire went off, leaving her unable to fight and she made do with a bunch of 1:35s. Meanwhile, the three of us cleared off doing 1:31s. Our friend and sponsored rider, Scott Cleff won the race!! Welcome back, Scoot!! And congrats to the whole Turn 9 crew, as Stuman won BoTT Heavy, Scoot won BoTT Middle, and Kevin Jump won BoTT Light! Great going, y'all!
After the racing, it was time for BSing. There were some folks spectating… one is thinking of racing an Aprilia and another is a guy that bought my truck, used to live in San Diego, and is now north of LA. He was pretty jazzed at the whole WSMC scene and said that he's coming back every month. We walked the mutts with Scott and his friend then headed to Zina's all time favorite racing event: Sizzler at Lake Elsinore. The food was good as usual, but tonite, our randy group started engaging our waitress and we all had fun.
I am excited again with racing. It seemed that I wasn't really going anywhere the last half of 2002, but the past few months I have stepped up my riding and the lap times have been improving. Now I can't wait to get back for February!!
=)